Rick Santorum Signs "Marriage Vow" Pledge He Was "Taken Aback"?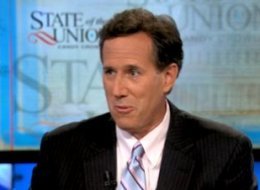 Ricky-boy was on "State of the Union" yesterday to answer why he signed the "Marriage Vow" pledge I talked about a couple of days ago.
When asked about it, here's how he responded:
"When I first read it, I was taken aback by it. I can't argue that I wasn't," Santorum told CNN's Candy Crowley. "But I understand why they're saying it, because it does undermine people's respect for the institution, respect for the people governing this country. If you can't be faithful to the people that you're closest to, then how can we count on you to be faithful to those of us who you represent?"
Well, Santorum, if you were taken aback by it, why did you sign it in the first place? Sounds hypocritical that you would sign something that you got "taken aback" over, right?
Some of the parts of the pledge that took Santorum "aback":
Calls for a vigorous fight against any so-called "re-definition" of marriage, including unions which are "bigamous, polygamous, polyandrous, same-sex, etc.

If gay marriage is passed, it doesn't necessarily mean that polygamy, polyandry, and other types of relationships that are illegal would be legalized.

Attempts to ban all types of pornography, believing that banning would protect "women and the innocent fruit of conjugal intimacy"

Ironically, the GOP is doing the exact opposite, in trying to cut funding for women and children on the WIC program, cuts in education, cuts in the FDA and the EPA.

Believing that military personnel need safeguards from "inappropriate same-gender or opposite-gender sexual harassment, adultery or intrusive intimate comingling among attracteds (restrooms, showers, barracks, tents, etc.)

An investigation by the Pentagon for the repeal of DADT found that if DADT was repealed (which it was, but not certified yet), there would be no serious detriment or danger to heterosexual servicemen and servicewomen.

Recognizing that "robust childbearing and reproduction is beneficial to U.S. demographic, economic, strategic, and actuarial health and security."

Essentially meaning that a woman's place is for "robust childbearing and reproduction," not doing anything else in society.

Also, the pledge makes the fraudulent and downright false claims that homosexuality leads to higher rates of these things.


a. Human mortality; See for example, Robert S. Hogg et al, "Modeling the Impact of HIV Disease on Mortality in Gay and Bisexual Men," International Journal 
of Epidemiology, 1997, Vol. 26, no. 3. From the abstract: "In a major Canadian centre, life expectancy at age 20 years for gay and bisexual men is 8 to 20 years less than 
for all men. If the same pattern of mortality were to continue, we estimate that nearly half of gay and bisexual men currently aged 20 years will not reach their 65th 
birthday. Under even the most liberal assumptions, gay and bisexual men in this urban centre are now experiencing a life expectancy similar to that experienced by all 
men in Canada in the year 1871."
b. Public health,
c. Public health costs (Medicaid, Medicare, etc.)
d. General health care price inflation (medical, hospital, insurance, etc).
e. Incidence of single parent households and related social costs,
f. Incidence of epidemics and pandemics,
g. Incidence of:
i.   HIV/ AIDS (Human Immunodeficiency Virus); 
ii.   Other retroviruses like XMRV, HTLV, etc. (affecting venereal fluids, semen, breast milk, blood);
iii.  Septic bacterial infections (such as from E Coli);
iv.  Hepatitis (forms of which are transmitted via fecal-oral, venereal contact); 
v.   Chancroid (Haemophilus ducreyi); 
vi. Chlamydia (Chlamydia trachomatis); 
vii. Granuloma inguinale or (Klebsiella granulomatis); 
viii. Gonorrhea (Neisseria gonorrhoeae); 
ix. Syphilis (Treponema pallidum); 
x. Herpes simplex
xi. Genital warts 
xii. HPV (Human Papilloma Virus)
xiii. Phthirius pubis (pubic lice) 
xiv. Sarcoptes scabiei (scabies) 
xv. Trichomoniasis (Trichomonas vaginalis)
xvi. Anal incontinence
xvii. Abortion
xviii. Abortion-related complication
No wonder Santorum was "taken aback." I was also when I read this pledge. It seeks to take American politics back to the 1950s, back when women couldn't vote, couldn't work, couldn't contribute to society the way they do now.
Then again, the "Marriage Vow" pledge seems like it would be too radical for Santorum, a vehemently anti-gay candidate for the GOP.
So let me get this straight, Rick: do you support the pledge or not? Even though you signed it, you still said you were "taken aback." Why sign something that you don't necessarily agree with yourself?
Have the gall to buck your other competitors for the presidency, Rick!
So, which is it Rick? Do you support a radical pledge that, if followed to the letter, would reverse all of the progress this country has made since FDR, or will you refuse to follow a pledge that you signed, that you didn't even agree with before you signed the darn thing?
Either way, you won't win! Actually, you won't win the presidency anyway!
-Drew, Concerned American